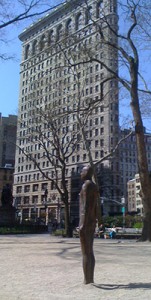 I'm still inspired by (and trying to process) everything I saw on a recent visit to New York City.
It was the classic whirlwind tour: museums, galleries, the city itself, seeing friends, an art school open house.
Highlights include the Metropolitan Museum (twice. My 5th visit and I'm still discovering entire new wings???), MOMA (Marina Abramović in performance, Tim Burton retrospective, all of modern art laid out for digestion), Whitney Biennial, Antony Gormley sculptures scattered like sentinals around Madison Park, a Susan Hauptman exhibit at the Forum, visiting the New York Academy of Art, discovering the Highline trail, buskers, jazz saxophone floating up the airshaft to our hotel window (total noir), piano & strings in the mezzanine bar at the Met, and street vendor hotdogs.