Please join me Wednesday night to see City Arts Magazine's best of Artwalk picks for spring of 2013, and vote for the winner!
YOU get to choose the prize winners if you come to the awards party!  (RSVP here)
My piece shown at Phinney Center Gallery in March is one of the ten finalists. I can't believe I'm in this fantastic company – come out and see what you like best!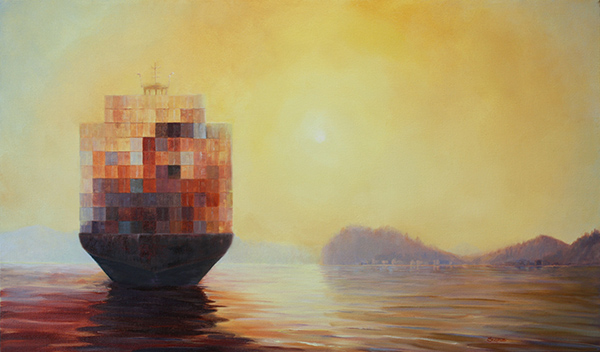 Astoria at the Mouth of the Columbia, or, Gifts from China for Cleveland Rockwell.  Oil on canvas, 20 x 34 in, 2013.
It will be a great evening and I hope to see you there!
Wednesday, May 22
7-10 pm
1927 Events
, 1927 3rd Avenue, Seattle
Over 21 only. Attendees must RSVP by noon May 22.