I hope you can come to the Pioneer Square Artwalk tonight. As well as the usual gallery openings, Todd Jannausch's Small Voids art gallery/installation will spring up along a block or two near the TK building. 100 (or is it 110?) artists' work will be in his small illuminated "galleries." Let me know if you spot mine. (Hint: it combines landscape and architecture, with a touch of surrealism.) CityArts has a nice write-up.
And next Friday please join me: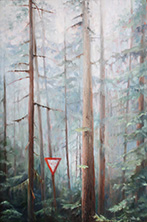 Opening Reception
Friday, October 12, 7 pm – 9 pm
Northwest Fine Arts Competition
October 3 – November 28, 2012

Phinney Center Gallery
6532 Phinney Ave N, Seattle 98103
M-F 9 am – 10 pm
Sat 9 am – 2 pm
The NWFA exhibition just went up at Phinney Center Gallery. Three of my works were chosen for the show, along with work by fifteen other amazing artists such as Suze Woolf and Dorothy McGuinness. I hope you can join us for the opening reception next Friday!
Yield. Oil on panel.  36 in x 24 in. At the Phinney Center Gallery through November 28.